Custom-Made in Lancaster, PA
Emergency doors, sometimes called panic doors, open quickly with a push bar to allow egress in emergency situations. These doors are typically needed to meet fire and building codes in commercial and public buildings. However, panic doors don't need to look industrial or bland. With Vintage Millwork & Restoration, you have options.
Emergency Doors & Panic Hardware
Emergency doors require specific hardware to meet building codes, in particular the Life Safety Code. Without it, your building may not pass inspection. A large horizontal push bar on panic doors allows occupants to simply push against it to exit a building quickly. This hardware can also be called a panic bar, crash bar, touch bar, or exit device.
At Vintage Millwork & Restoration, we can help you meet your building's safety requirements with style and durability. Emergency and panic door hardware can be installed on our commercial-grade steel doors or our custom solid wood doors. This allows you to maintain your building's décor aesthetic while ensuring occupant safety. When you choose a custom wood emergency door, you can select from a wide variety of wood species and finishes, and we can design it to match just about any architectural style.
In addition to designing and building panic doors, we offer the necessary hardware too. A few popular options for emergency doors include concealed closures, surface-mount closures, and concealed vertical-rod panic hardware. Looking for something different? To discuss your specific project needs and to get a quote, contact us today.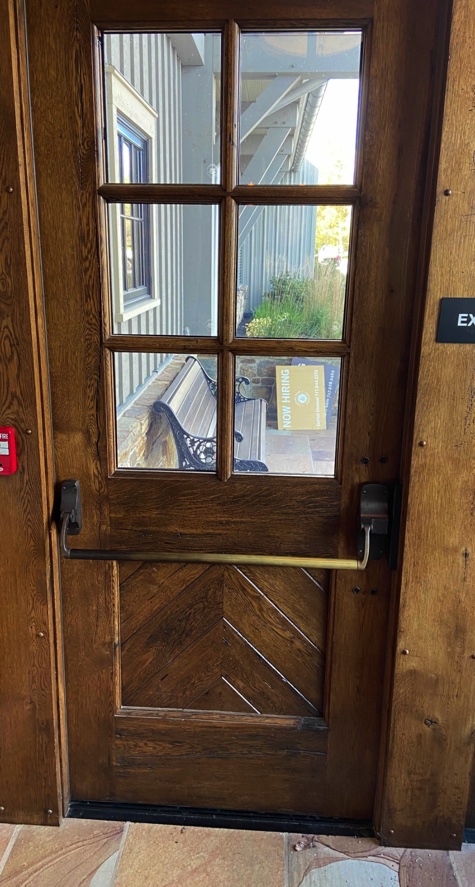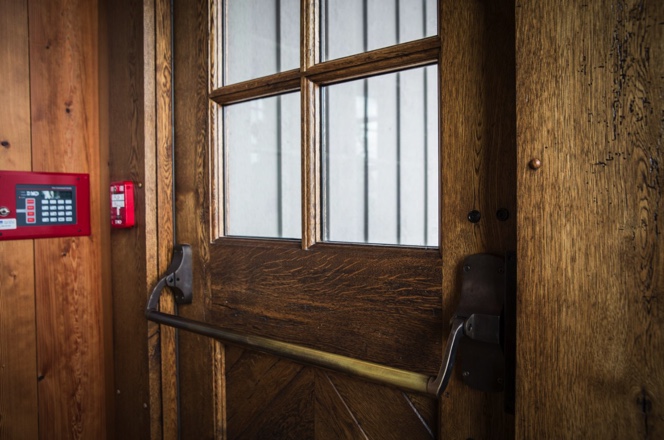 Why Choose Vintage Millwork & Restoration?
For more than 20 years, we've used old-world craftsmanship, modern technology, and high-quality materials to produce doors of outstanding beauty and performance. Our team is hands-on in each step of your project, from drafting the design to building and installing your finished emergency or panic doors. We never take shortcuts, and our technique and state-of-the art CNC machine ensure precision and quality that's hard to find elsewhere.
Whether you're an architect, builder, or contractor, we understand your challenges and deliver quality custom doors without hassle. Tight timeline? Unusual request? We'll make it happen.
Start Your Emergency Door Project Today
Are you ready to add emergency doors or panic doors to your public or commercial building?
Click here to start your project today.
Do you have questions about emergency doors? Contact us. At Vintage Millwork & Restoration, we pride ourselves on working one-on-one with customers to create the doors to suit your specific needs.