Nothing creates a first impression and sets the tone for your home or business quite like a custom wood door. While this part of a structure may seem like a small detail or an afterthought, the process of building a custom door is actually quite complex and labor intensive.
But here at Vintage Millwork & Restoration, we've made it easy for our customers to get the beautiful, long-lasting custom doors they desire. Here are the 10 steps we follow when building a custom wood exterior door.
1. Info Gathering & Style Selection
First, we sit down with you to understand the type of door you're looking for, as well as your budget. Then, to determine the door's aesthetics, we show you a variety of finished doors and discuss your likes and dislikes to ensure the finished door matches your taste. Whether you're interested in a design type like Craftsman or Mid-Century Modern or a specific style (arched, sliding, screened, Dutch, etc.) our team can create your custom vision.
2. Wood Selection
Once the door style has been chosen, the focus turns to wood types — one of the most significant factors when it comes to the final appearance of a door. Determining the best wood species for your home or business is a key piece of the process. We recommend several species for exterior wood doors due to their durability, including include Sapele mahogany, reclaimed white oak, quarter sawn white oak, western red cedar, poplar, and Douglas fir. Each of these wood species offers its own unique benefits and appearance, which we discuss with customers to ensure the best choice.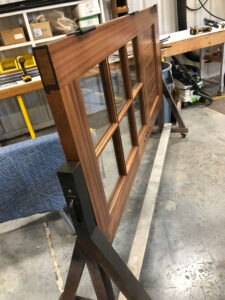 3. Hardware Selection
The next step is selecting hardware to match the style and design of the door. While it takes up only a small portion of the surface area, hardware goes a long way in giving a door its character and enhancing its appearance. We offer a large selection of door pulls, hinges, and other hardware, including options from Ashley Norton, Rocky Mountain Hardware, and Von Duprin. In addition to set pieces, our in-house blacksmith can create custom hand-forged hardware. This provides another way to customize your project and leave your mark.
4. Glass Selection
Another detail is the glass to be used with the door. Depending on the design, there may be sidelights, or glass within the door itself, to help bring light into a living or working space. During this step of the process, we help you select the best glass type based on your door design and budget. Our glass is sourced from Bucks County, PA, and is made specifically for use with doors.
5. Drawing & Kickoff
Now that the door style and materials have been agreed upon, the door plan is drawn out, and customers meet their project manager. At Vintage Millwork & Restoration, we pride ourselves on offering a high level of personalized service and aim to make sure your needs are being met at every point in the project.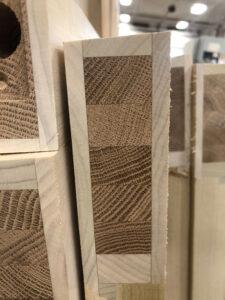 6. Engineering
The physical building of the door begins! We start by kiln drying the chosen wood to an ideal percentage of less than 12% moisture. Then the wood is sliced and run through the sander. We engineer our doors to increase stability and longevity, which involves layering pieces of wood inside the door so that it is neither hollow nor completely solid. A common misconception about door construction is that solid pieces make for a better finished product. However, engineered doors are far superior — they're more stable, less likely to warp, and tend to last longer.
7. Precision Cutting
Once engineering is complete, we move on to the cutting and shaping of your door. In this step, our craftsmen work on a state-of-the-art CNC machine made by Biesse, a precision tool that makes the necessary cuts to give doors their flawless and beautiful appearance.
8. Assembly
After the CNC mill has done its work, it's time for the intricate, delicate process of assembly. Our experienced craftsmen take the utmost care and consideration in this step, reflected later in a truly stunning finished piece.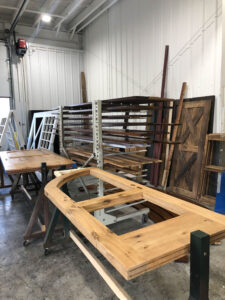 9. Finishing Process
With the door cut and assembled to its final shape, it's ready for finishing. Depending on your preference, the door will be either painted or stained. Many customers opt for a stain, as it allows the natural wood characteristics to truly shine. We use one coat of stain followed by three coats of marine grade epoxy finish to protect the door from weather. From there, our doors are mostly maintenance-free, though an additional finishing coat should be added every three to five years. (Three if it's directly exposed to sun, five if not so much.)
10. Shipping & Installation
Finally, our team delivers your finished custom door. If a door needs to be shipped, we build a custom shipping container, complete with all the necessary padding and accessories to ensure it arrives in the exact same condition as it left the shop. And if needed, we work hand in hand with your builder to install your new door as well.
Building beautiful custom wood doors for our customers is our passion. If you'd like to explore building your own custom door (or doors), please call us or submit your project details. We look forward to working with you to make your vision a reality!