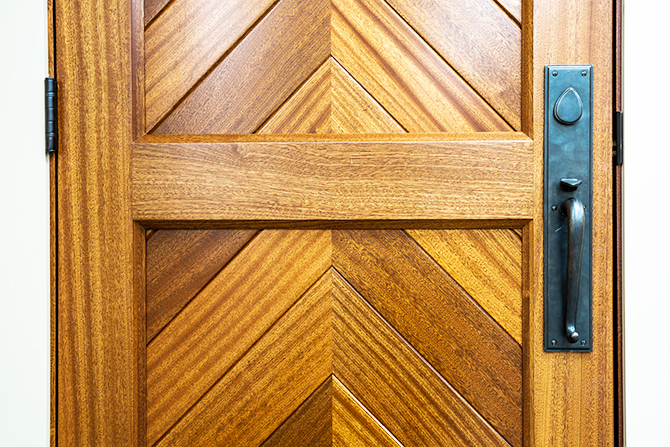 If you're taking the time to create your own custom door, it's probably safe to say you are looking for a unique, beautifully designed outcome. Selecting the right hardware to match that vision, however, involves more than just the visual appeal. The secret to your door's success is taking into account the accessibility, lock functionality, style, and finish of your hardware.
Interior door hardware includes hinges, locks, doorknobs, stops, and everything required to operate your door. Exterior hardware adds items such as knockers and kickplates. Designing the best custom door to fit your needs means getting specific about which hardware pieces are the best choice for your access, lock, and style needs.
Physical Requirements for Accessibility
In considering the accessibility of your door, or how easy it is to open and close, think through how this door will likely be used. Will small kids reach for the handle, and do you want them to be able to easily get in and out? Will you need the door to open easily at the prodding of elbows, feet, or hips when your hands are full? Do you plan on living in this house well into your senior years, or do you have elderly family members who need to use this door frequently?
Daily use is a big determining factor in the physical shape you should use for your hardware. Doorknobs are popular, but they are trickier to use than a handle or lever. This is a good thing if you're trying to keep small children inside. If you frequently find your hands full or need easy access for arthritic hands, you might favor a lever, which is easier to grip or turn.
Locking Functionality
Not all locks are the same. For this reason, you should get choosy about which lock style you need. While it's easy to understand an exterior door's need for a strong locking mechanism, it's also important to consider interior door locks. Private areas in your home, such as your bedroom or bathroom, benefit from a privacy knob or lever. Privacy locks come with a tool for emergency release, which can come in handy for kids' rooms. Closets and storage rooms should remain accessible, making non-locking passage levers or knobs a top choice.
Style and Finish
The best area to be picky is in selecting your hardware's style and finish. After considering your accessibility and locking needs, find a hardware style that is congruent with the architecture of your home.
Styles and finishes vary widely, and each one contributes to your home's look in a different way. If your home is more traditional, brass might fit best. Dress up the metal with a different finish to create a custom look. If your house is new or modern, you might want to consider chrome. Nickel and bronze styles also tend to work with a variety of décor. Try adding unique finishes such as black, copper, crystal, or even hand-painted to perfect your hardware's look.
Stay consistent with your hardware material across all pieces: knobs, locks, hinges, and any decorative pieces. You can also ensure your look is cohesive from door to door by using the same hardware style on interior doors in the same room or area.
Trends
While your hardware selection should fit your home's architectural style and your personal taste, that doesn't mean you should skip out on trends you like. Today's custom wood doors are not your grandfather's style of wood door.
Now, some designers are using black hardware and fixtures with a matte finish to bring out the grain of wood used in their doors. Polished nickel, with its warmer undertones, is replacing polished chrome. Many homeowners are opting for softened finishes like satin, nickel, oil-rubbed bronze, and gun metal.
Where to Begin
Before purchasing a new door, get picky about the style and functionality you want out of your door. Talk with a designer or engineer – such as those on the Vintage Millwork and Restoration team – about your options in door handle or pull styles, locking options, and your home's particular look and feel.
It is easier to choose all of the right components for your new door, such as the hardware or the best wood species, when you have an expert to walk you through the process. We have such experts on hand: they can take your vision and turn it into a real, solid door that you will love. Start the process by calling 717-687-0292 or contact us here.