Are you thinking about adding a screened porch to your house design? This home addition allows you to expand your living space for three seasons out of the year. If heaters or a fireplace are added, the space can even be utilized year-round. A screened porch addition increases the value of a home in two ways: by adding more living space and by improving quality of life.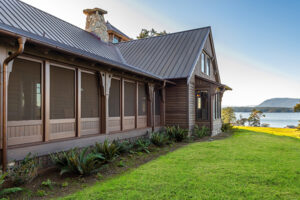 Some people like the feeling of being outdoors but don't love the idea of being bothered by pesky bugs or risking a sunburn. A screened porch solves all of these problems and more. Done correctly, they offer a continuation of the home space and blend in a natural element. This home, shown above and to the right, provides great views of the nearby water and landscape while providing shelter and close proximity to other aspects of the home.
Understanding Value
There are many moments where a screened porch is beneficial. It provides shelter from outside elements like rain, sun, and bugs, but it allows you to feel like you are still outside in the fresh air. This type of porch can also act as an extension of a room that already exists, like a kitchen or a family room. The screened porch can be designed to match this interior space as well as blend into the existing structure and the natural landscape that surrounds the house. It is important to note that the value of a home can be measured with intangible benefits like these, not just monetarily — although the resale value of the home will most likely increase with an asset like a grand screened porch (especially with a nice view)!
Customization Benefit
Custom screened porches are typically a must-have for homeowners willing to invest in a space that is unique to them. These additional rooms are a classic upgrade and can be built to fit the needs of any family. One aspect of customization includes different options for flooring and screening to suit one's lifestyle. For instance, you can create a space with waterproof flooring and pollen-resistant or UV-filtered screens to protect against the outdoor elements. Interested in building a small screened room off a bedroom, or a large two-story porch that looks over a backyard? No problem! Our custom millwork capabilities can fit the needs of any space and make your home stand out on the block.
Interested in upgrading or building a home with a screened porch? Contact us today for a quote.