Choosing the best door style is important not only for the appearance of your home or business, but your personal comfort and taste as well. While taking up only a fraction of a building's surface area, exterior doors are a key component to the overall aesthetics of a building. In order to make the best choice, property owners should take a number of things into consideration before their purchase. The following is what you need to know about custom wood door styles to ensure that your building looks great.
Consider Your Home's Architectural Style
The right door type will always be the one which fits your building's architectural style. Building owners and homeowners should consider the entire appearance of their building before choosing a door. Whether you are looking for an interior or exterior door, a few popular styles to consider are arched, sliding, swinging, and French.
The arched door is a classic style which dates back to Roman and medieval Europe. Therefore, an arched door can add a historical look to your home and make it feel quite rustic, fitting in with Victorian, Tudor, or French Country styles and adding charm.
Sliding doors can be incorporated inside or out in the classic barn door style. These doors not only provide a unique look but save space too. Custom wood sliding barn doors fit best in traditional and farmhouse-style builds.
Paneled or stile-and-rail doors add texture and high-quality definition to your home and can be laid out depending on the look you are aiming for. These can be designed as single or double doors and incorporate windows or paneling to match any architecture. Add swinging doors to your business or home entryway, or to separate a kitchen or bathroom from a more public area. While they are all traditional in style, Dutch swinging doors can be added if you want a more rustic appeal, or if you are building an event space that mimics a traditional barn.
French doors can be used as interior or exterior entryways to help add light or to get a large amount of fresh air into a room. They can have a grand effect on a room as well, particularly if they include large windows. Get that instant Parisian feel by adding these to a living room or sunroom space.
Don't Forget the Windows
Other than matching your door to your architectural style, the sun can help you decide whether to use a solid door versus large-window paned French or double doors. Sunbeams streaming through your door windows may impact life inside your building, depending on where the sun is rising or falling. Any windows on either side of where the doors will be located should also be considered.
Always Consult with an Expert
While the decision of style is ultimately in your hands, you can rely on expert craftsmen who know which door styles work best for your type of building. Next time you consider purchasing a custom wood door, remember the variety of factors above that play into your decision before choosing a door style. Contact us to learn more and to start your next custom door project.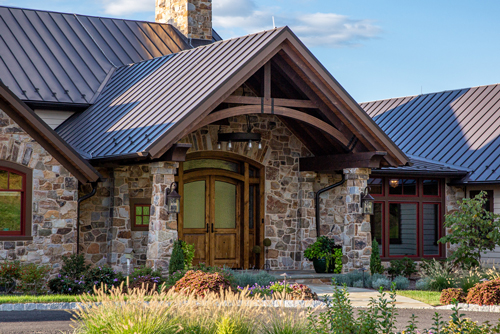 Pro tip: Planning on a new front door? Enhance its appearance and add protection by building an overhang with timber frame trusses. This timber frame touch can be added to your entryway to complete the look, protect the wood, and keep you and your guests dry!