You have the perfect vision for your wood project — a new front door to welcome you home, a cupola to top off your party barn, or a gate to create the perfect picture entryway. Enthusiastically, you've had plans drawn up, but what is the next step? You'll probably ask yourself, "What type of wood should I use for my project?"
Before you choose, let's take a step back and learn a little bit more about the different types of wood available. Although we work with many different wood species here at Vintage Millwork and Restoration, we'll focus on a few of our most popular: sapele mahogany, white oak, western red cedar, and knotty pine.
Hardwood versus Softwood
Wood is broken down into two main categories, hardwood and softwood. The main difference? According to Penn State Extension, hardwood trees lose their leaves annually whereas softwood trees retain their foliage year-round. We use both types of wood depending on the project.
Hardwood
Most of the hardwood we use grows in the eastern part of the United States and thrives in broad-leaved, temperate forests. It is commonly recognized by its distinguished annual rings, density, and gorgeous grain patterns. Hardwood takes time to grow and flourish to the size needed before harvesting and in the end, generally costs more. The sparsity of these wood species makes them even more desirable to use in projects.
Popular hardwood species are sapele mahogany, oak, maple, cherry, walnut, and teak. While there are a few ways to build with hardwood, we commonly use this wood for doors, stairs, and tack room accessory projects.
Two popular types of hardwood we mainly use in projects are sapele mahogany and white oak.
What Is Sapele Mahogany Wood?
The sapele mahogany is a large hardwood tree commonly found in Central Africa. Tall and wide, its trunk can exceed six feet in diameter! Because the sapele mahogany tends to have few to no branches below eighty feet, it yields lumber that is wide and long with a very straight grain, giving it a very attractive and distinctive look.
We recommend sapele mahogany for many projects not just for its looks but also for its superior stability. Sapele wood has a medium hardness, with a Janka rating of 1510 lbf (pounds of force). It is harder than many North American hardwoods, and it's almost twice as hard as genuine mahogany! As the tree's fibers grow, they twist around the trunk with the grain pattern moving in the same direction. This interlocking pattern prevents a lot of the movement often found across the grain in other wood species. These characteristics make sapele mahogany a very stable wood to work with.
Sapele mahogany is unique because even though it is classified as a hardwood, it has some of the same features as softwood and can be used for some of the same projects.
"We recommend quartersawn sapele mahogany for its better stability." Amos Fisher, General Manager
Sapele Mahogany Projects
Interior Projects: Common interior projects that use sapele mahogany wood are cabinetry, doors, and flooring. (It is even used to make musical instruments!)
Exterior Projects: Common exterior projects that use sapele mahogany wood are decking, siding, and window framing.
What Is White Oak Wood?
White oak trees are commonly found throughout North America, and throughout history, it's been used for nearly any project imaginable. The symmetrical grain of this hardwood is typically long and straight, allowing multiple logs to be harvested on one tree without any significant knotting. However, it can also have an irregular grain and tends to have a coarse and uneven texture with porous annual rings. White oak lumber works well for both exterior and interior projects, and it looks great either stained or painted.
In addition to "new" white oak lumber, we also use a fair amount of reclaimed white oak. This hardwood is highly resistant to cracking, water damage, and decay, so a lot of it has held up over the years. Reclaimed white oak wood has become highly sought after for home projects, and often comes from barns and other buildings in the Midwest and Eastern United States.
White Oak Projects
Interior Projects: Common interior projects using white oak wood are those that need to be durable and/or water-resistant, such as bathrooms, children's rooms, or rec rooms. We often use reclaimed white oak for projects such as doors, farm tables, and tack room accessories.
Exterior Projects: Common exterior projects involving white oak wood are front doors, barn doors, and window frames.
Softwood
Softwood comes from conifer trees such as cedar, pine, and spruce, and despite its name, it is not necessarily always softer than hardwood. Softwood accounts for 80 percent of the world's production of timber (Wiki) and is most commonly used in the construction industry. Softwood is appealing because it is plentiful and versatile, and it tends to be resistant to insects due to the lack of moisture under the trees' bark.
Two popular types of softwood we use in projects are western red cedar and knotty pine.
What Is Western Red Cedar?
The western red cedar is a tree native to western North America that thrives in forests and on mountainsides. This shade-tolerant tree quickly reproduces, providing an abundant supply of this softwood that's a perennially popular choice for projects.
Western red cedar comes in warm cinnamon colors, adding a beautiful visual element to your home without the need for colored stain. The grain is straight with little knots. Throughout America specifically, this wood species has been used for centuries, not only due to its distinctive hue but for its durability, resistance to weather decay, minimal maintenance, and long-lasting beauty. Western red cedar is a truly versatile softwood that looks good while standing up to the elements.
Western Red Cedar Wood Projects
Interior Projects: Common interior projects involving western red cedar include paneling, accent beams, and trim.
Exterior Projects: Common exterior projects involving western red cedar include posts, pergolas, siding, doors, and decking.
What Is Knotty Pine Wood?
Knotty pine is a softwood distinguishable by its prominent knots and gorgeous honey tones. These wood boards range from yellow to orange and even reddish, and they work particularly well for mid-century modern and rustic projects. Thanks to knotty pine wood's warm colors and charming knots, this softwood is a popular choice for adding visual appeal.
Knotty pine wood comes from evergreen trees that typically grow anywhere from ten to 260 feet tall (wiki). Pines grow significantly faster than other species and therefore are the most commercially important tree species in the world. Knotty pine wood is medium in density but more durable than most other softwoods.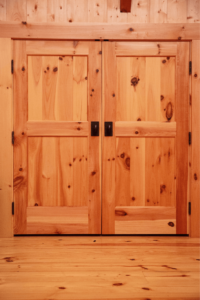 Knotty Pine Wood Projects
Interior Projects: Common interior projects that use knotty pine wood are interior doors, furniture, floors, cabinetry, drywall framing, paneling, and countertops.
Exterior Projects: Common exterior projects that use treated knotty pine wood are outdoor furniture, and roofing. We don't recommend using knotty pine on any exterior doors.
One More Thing to Consider When Choosing the Type of Wood for Your Project: Stain
The finishing touch to your wood project may involve staining and/or finishing. Deep-penetrating wood stain enhances the color of your wood, while the finish provides protection against the elements. We work with only the highest quality stains and finishes for our doors and other millwork projects.
To allow the natural beauty of the wood to shine through, we typically use a flat finish. A variety of stain colors are available to complement your wood choice and color preference. Here are some of the most popular stain choices that we recommend:
Medium Brown with Clear
Puritans Pine
Red
White
Clear
Early American
English Chestnut
Still undecided? We understand there are many variables in determining which wood species is best for your project, as well as which stain to choose. Our team of custom craftsmen at Vintage Millwork and Restoration will work with you every step of the way to ensure you have the best-finished product. Let's get started!